Designed and built with the best safety and the most unique features of any self-balancing personal transportation device.
The Omeo's powerful two-wheeled self-balancing platform allows you to interact with the world in a new way. With balance-based movements, Omeo users get to express their individuality in a way no other mobility device allows.
For everyday use, the Omeo comes in a standard set up designed to make the day easier. The compact footprint easily fits through standard doorways and lets you turn on the spot, whilst the hands-free movement makes carrying items and pushing objects effortless.
With class leading all-terrain capability, the Omeo will allow you to get to places that were previously unreachable. Now you can travel over uneven terrain, scale inclines and navigate troughs, while always remaining level in your seat.
This unrivalled capability now means beaches, forests, tracks and un-sealed pathways are now accessible.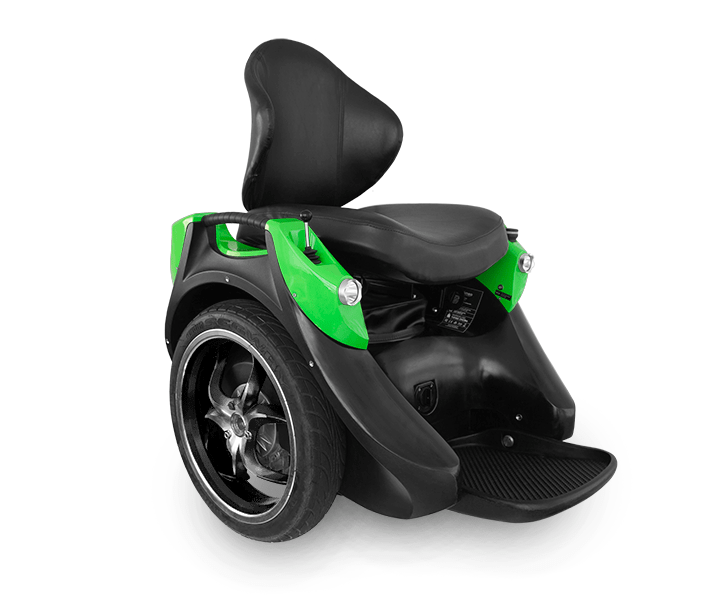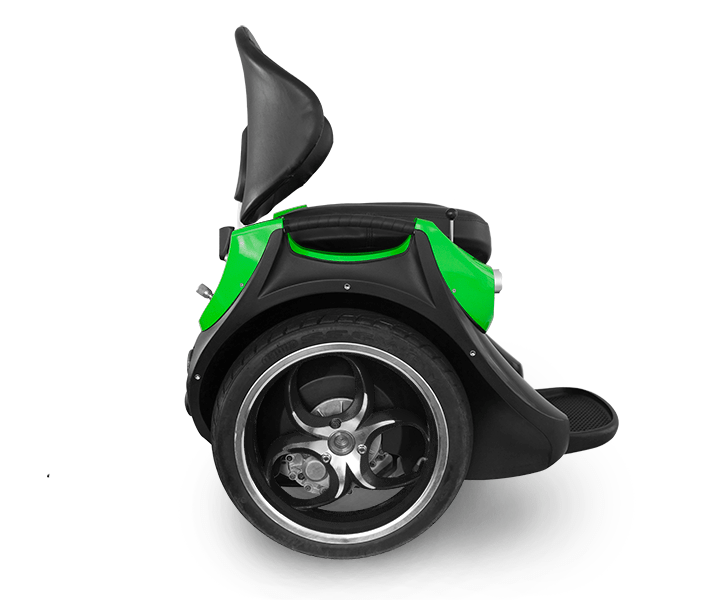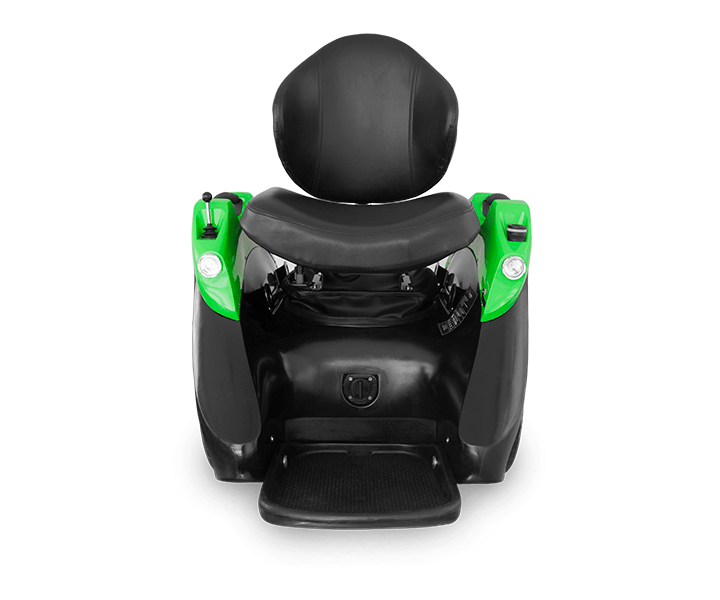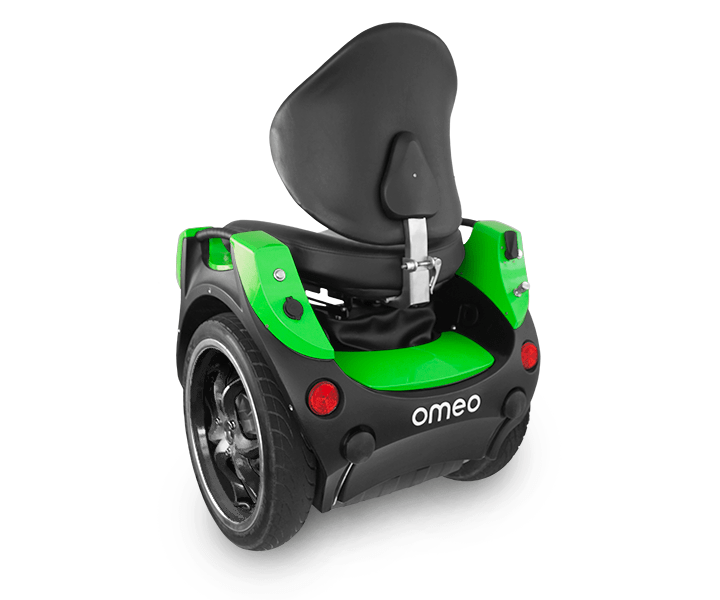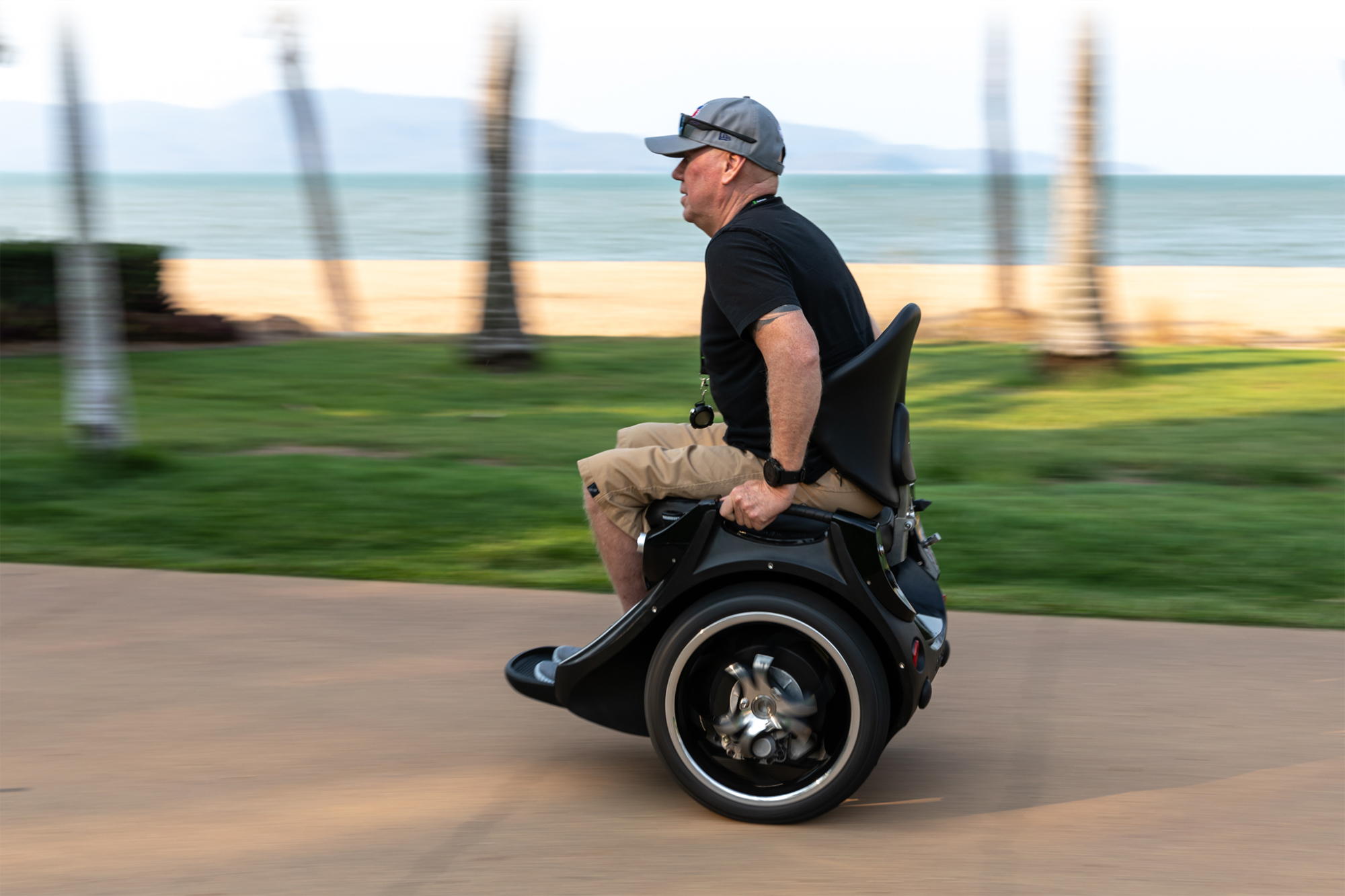 Multiple Driving Modes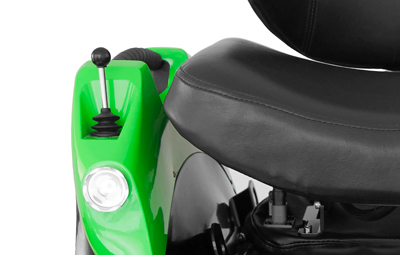 Joystick
The forward and back movement is controlled by shifting your body weight forward and back. You use the Joystick then to move left and right. This is unobtrusive and great for manoeuvring in tight spaces.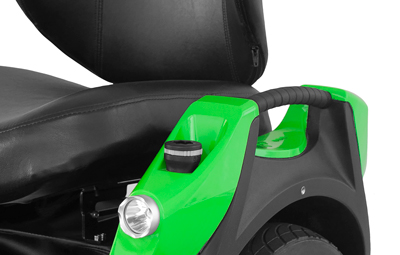 Seat Control And Handgrips
The forward and back movement is the same as in Joystick mode, but now that the seat is unlocked, you can control the direction by shifting your weight to the left and right. Hold the handgrips for more leverage and control of your body movements.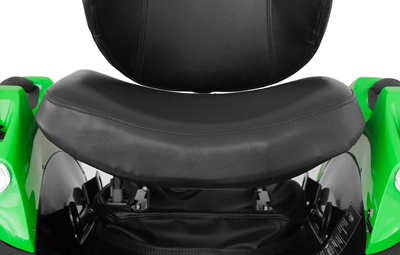 Active Seat Control (ASC)
Once you get used to how your body can move the machine, with practice you can go completely hands-free.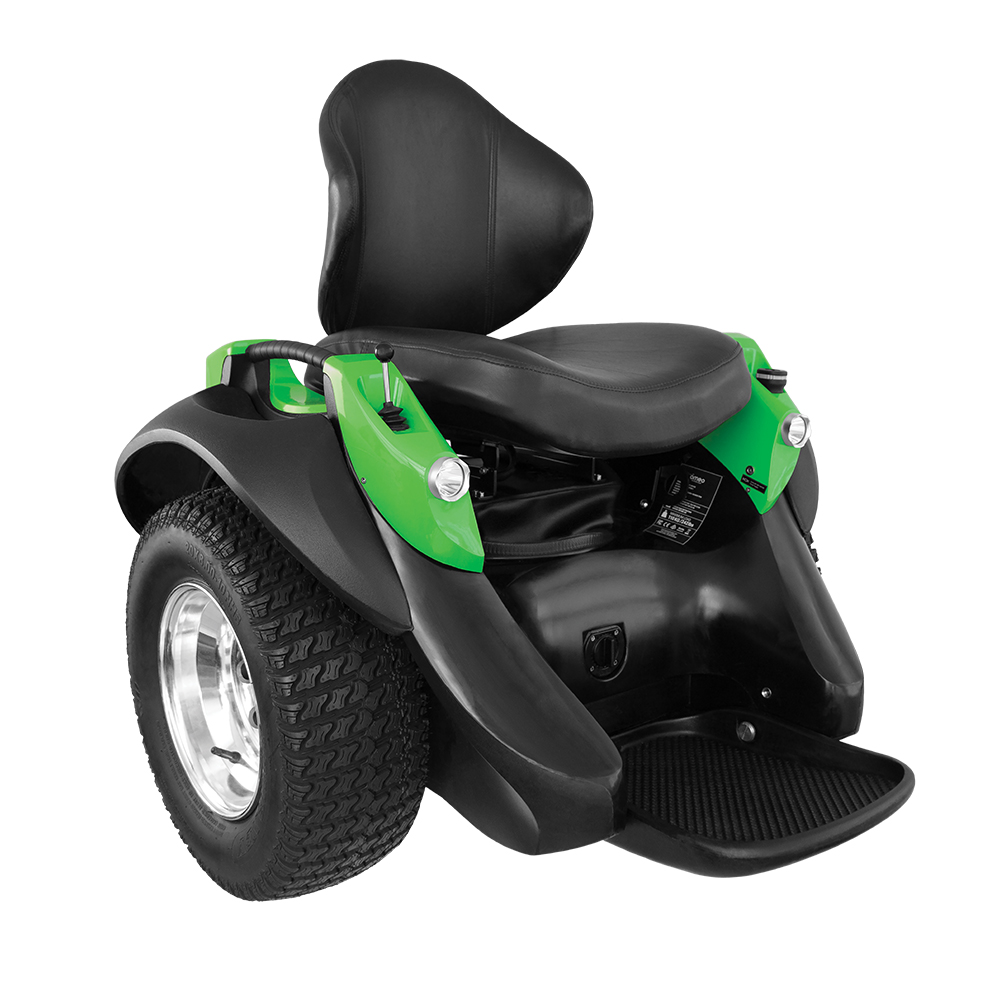 Off-Road Kit
The popular add-on kit that allows you to take your Omeo just about anywhere.
The Off-Road Kit includes Wheel guards (fenders) and All-Terrain wheels that are suitable for all outdoor use and a wide range of environments.
The wide flared guards (fenders) and bigger tyres will increase the overall width of the Omeo (to 850mm/33 inches) meaning that it will not go through standard doorways.
Because the tyres have no crown and operate at low pressure, they provide a great feeling of suspension, a smooth ride and great traction including on soft sand, gravel and dirt.
The turf style tread of the All-Terrain tyres means the Omeo Off-Road configuration is gentle on delicate surfaces (particularly in a straight line), such as lawns, golf courses and other fragile flora.
The Off-Road Kit can be purchased online with your Omeo purchase or as an after sale accessory.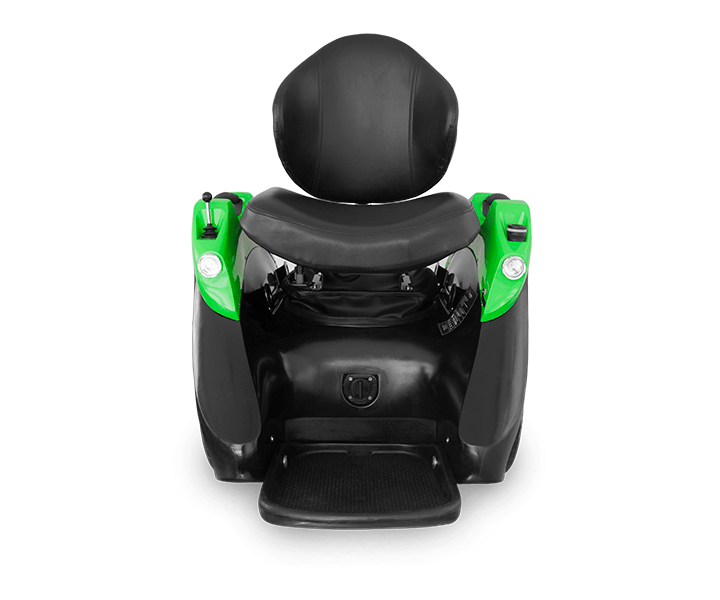 The Seat
The Active Seat Control (ASC) system is a unique control interface from person to machine in which you control the direction, speed and braking through body movements.
The combination of the seat pan, seat positions, backrest and cushions makes for the ultimate support, comfort and control. Feedback from leading seating specialists say "they wouldn't change a thing".
The curved seat pan captures the legs – providing support for control.
Adjustable positioning and height at 4 screw point in the Seat Pan.
Great results from pressure mapping tests.
The overall design is supportive and comfortable for a wide range of body types.
Core features of sitting a wide range of people upright.
Self-levelling in the act of breaking, going down hills and through dips – so you never feel as if you are going to fall out the front.
Features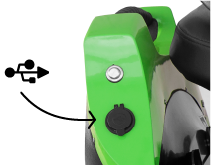 USB Charger
For charging your phone or small devices while you're out and about.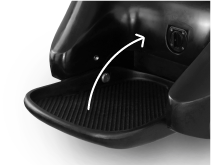 Footplate
Fold away footplate with adjustable heights.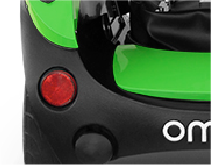 Front and Rear Lights
So you're not limited to adventuring during daytime hours.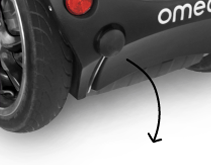 Self Levelling Legs
Individual self-levelling stabilising legs. So you can stop and park on uneven ground.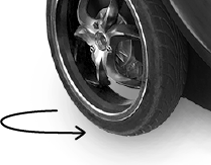 Rotates on own axis
Making manoeuvring in tight spaces a breeze.
Tie Down Points
So it can be safely transported in vehicles or public transport.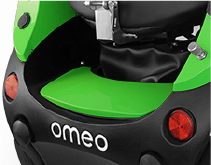 Storage compartment
For storing away any loose items.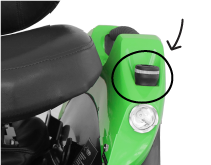 Multi-functional Holder
For accessories such as cup, phone and device holders.
Five colours available

Safety
Although the Omeo has the best safety and backup features of any self-balancing device, we think it's really important your agent is there at the start to give you training so you feel confident on your Omeo before venturing out in public.
The Omeo has dual system backups to avoid mishaps and provide alerts (e.g. battery levels), as well as in built-in safety features that won't leave you stranded. This is all outlined in the User Materials provided with your Omeo.
| | |
| --- | --- |
| Maximum safe weight capacity* | 110 kg | 243 lbs |
| Minimum safe weight capacity | 40 kg | 88 lbs |
*There is no warranty for users over 110kg
Speed restrictions
One of the key attractions is that the Omeo will travel up to 20km/hr (or 12mph).
Some areas do have restrictions. It is your responsibility to check and adhere to the rules and regulations in the area you are riding your Omeo.
Note: In Australia, the Omeo is factory set to 10km/hr due to speed restrictions.
Security
The Omeo can only be powered on with the remote control. So as long as you have the controller with you, NO ONE can get on your Omeo and drive away with it.
The Controller also has a security lock function that, when activated, will trigger an alarm if anyone tries to move your Omeo.
Capability
| | |
| --- | --- |
| Travel distance on a single charge* | up to 50 km | 31 miles |
| Ground Clearance | 85 mm | 3.4 inches |
| Gradient | 20°- 25° incline and about 30° decline – provided there is sufficient traction |
*This is for the standard setup and will depend on a variety of factors including speed, gradients, terrains and environment temperatures. The range will be less for the Off-Road Kit.
Measurements
Length (footrest up/down)
740/900 mm | 29/35 inches
Height (backrest on/off)
990/650 mm | 39/25 inches
Width (standard/off road)
650/865 mm | 25.6/34 inches
Seat width
430 mm | 17 inches
Seat length
460 mm | 18 inches
Seat back height
Overall seat height is adjustable from 500-560mm | 20-22 inches.
460 mm | 18 inches
Main battery weight (lithium ion) x2
10.3 kg | 22.7 lbs
Auxillary battery weight x2
1.8 kgs | 4 lbs
Tyre diameter (standard/off road)
483 mm | 3.4 inches
Weight (including batteries)
75 kg | 154 lbs